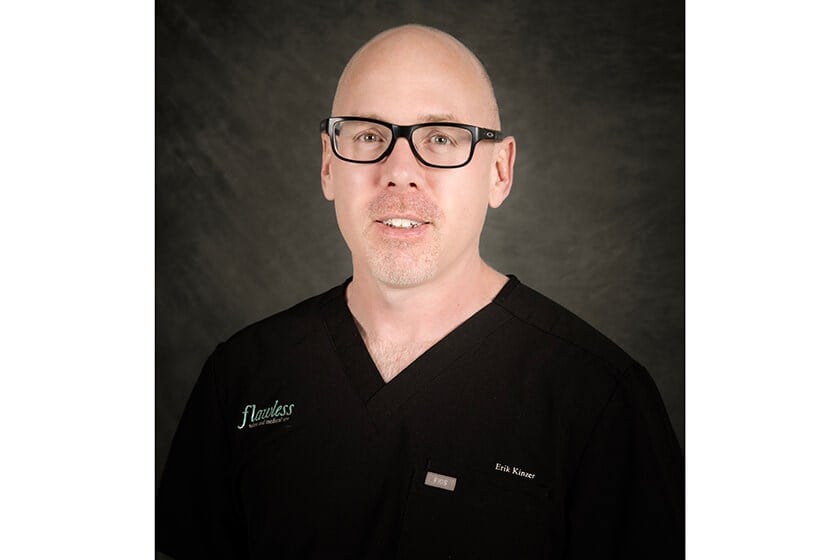 As one of the co-owners and the medical director of Flawless Salon and Medical Spa in Butte, MT, Erik brings years of experience as a board-certified family nurse practitioner. Specializing in laser-assisted technology by Alma, Erik has a bachelor's degree in nursing from Montana Tech and a master's degree in nursing from the University of Washington. Additionally, he works full-time as an emergency room provider. His mission is to provide beautiful results and ensure patients have a positive experience throughout their time at Flawless Salon and Medical Spa. Together, Erik and the other co-owner, Patience Peale, believe in providing their small community with the best care possible. Please schedule a complimentary consultation to learn more about popular laser procedures, such as laser acne treatment, laser vein removal, or body sculpting.
Reviews
"What a great place. I work with Erik Kinzer, NP in the emergency room at St James, and chose the Flawless Salon and Medical Spa because of my great respect for him and his medical judgement. He is passionate about medical care, and he and his wife share that passion in procedures performed and the care rendered at the Medical Spa."
J.D.
Google
"I have used this facility for laser and medical treatments. They are very professional, extremely knowledgeable, patient and understanding. Very willing to answer all of your questions. Really care about their clients health and wellbeing."
J.B.
Google
"Patience and Erik are wonderful providers and very knowledgeable. They have gone above and beyond for me!! The staff is very pleasant and helpful and I would recommend Flawless to anyone!!"
A.S.
Google
"I had the Beautifill liposuction and fat transfer done in March. I did the liposuction from my outer thighs and transferred to my breasts. I had it done on friday and was back to work on tuesday! The downtime was so minimal! And I'm SOOOO happy with my results, I would recommend it to anybody! You couldn't be in better hands either, Patience and Erik are amazing!!!"
Anonymous
Office Visit
"Lindsay was fantastic - she gave me the best facial ever, did my lashes and nails, and gave me one of the best haircuts I've had in a long time. She is a delight! Chelsea was super helpful getting me set up with appointments, and Patience and Eric were fun, professional, and friendly. And, wow, Larry gave an incredible massage. I can't think of how a spa day could be better. I highly recommend Flawless Salon!"
E.S.
Google
Related Posts